This is Our Place, Together.
We are a family friendly, California Cuisine with great service, quality food and good drinks.

Located in the Village


Live Music Fri & Sat Nights


Casual Dining or Cool Upper Bar


Large Menu with Quality Food


15 Taps of Mostly Craft Beer


Over 100 Whiskies & Boutique Spirits


Large Selection of Great Wines


Private Loft for Special Events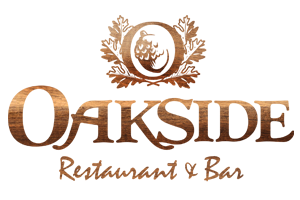 OAKSIDE Restaurant & Bar is the newest restaurant to be opened by the Hastings family. This beautiful building where Oakside now resides was originally built in 1989. It was constructed with a massive amount of heavy, beautiful oak and is held together with many wooden pegs. Some of the materials came from as far as Koa and Malaysia. Throughout the years this three story beauty has been home to several different businesses and we are thrilled to bring this establishment back to life!
Our family has resided in Big Bear for five generations. Mike and Julie Hastings originally fell into the restaurant business in the fall of 2003 after returning home from a mandatory fire evacuation to find that their building, being leased by an Italian restaurant, was completely abandoned. Left with their property in disarray, Julie quickly decided that she was ready for a new challenge. Mike, having operated a successful construction company in Big Bear for over 25 years, went to work on the remodel and restoration process. In less than two months, the newly named Peppercorn Grille was open for business.
Peppercorn Grille, located just around the corner and after all these years of success, we are very excited about our latest venture. We are bringing a new name and a new concept to Big Bear. We feel very fortunate to open these new doors and share OAKSIDE with the residents and guests of beautiful Big Bear Lake.
OAKSIDE offers two stories, plus a private loft of beautiful restaurant space, sure to satisfy any crowd small or large. We offer a dining downstairs with several cozy and private booths, as well as tables with views of the Village. Our heated patio is ever popular and boasts a large fire pit with surrounding bar-height seating with live music on the weekends. This is the perfect place to enjoy a cocktail or glass of wine as you watch the passers-by. Upstairs you will find a full-bar with bar seating, bar tables and a large lounging section. Watch your favorite sporting event on one of our many TV's at the bar. Lastly, we offer our VIP third story loft for private parties and events.
Thank you for choosing to spend your time with us... we feel blessed to have you. Enjoy!
---